Dr. Marjorie Agosín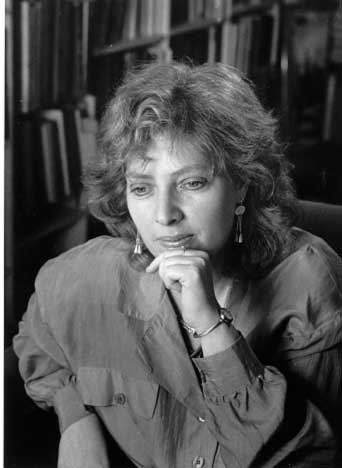 Dr. Marjorie Agosin will be the keynote speaker at the
Institute of Latin American Studies Students' Association 19th Annual Conference on
February 27th, 1999, 5:00 p.m. at the Welch Auditorium,
University of Texas at Austin. The event is free and open to the public
---
Dr. Marjorie Agosin, who was born in the United States and raised in Chile, is a critically acclaimed poet, short story writer, editor, dedicated human rights activist, and devoted mother of two. She is the author of numerous books of poetry, fiction, criticism and anthologies on subjects ranging from international human rights issues to Jewish Latin American women writers. She has served on the advisory board for Ms. magazine and served as editor of the acclaimed Secret Weavers Series of White Pine Press.
Marjorie Agosín is a well-known spokesperson for the plight and priorities of women in Third World countries. Her book, Scraps of Life: Chilean Arpilleras (Red Sea Press, 1987, translated by Cola Franzen), tells of Chilean women who make their struggles known to the world through the exposition of "arpilleras," folk tapestries which tell of their bravery and hardships in the face of oppression. Money from the sale of these handicrafts aids them in supporting families in which the men have been arrested, murdered, or have simply "disappeared." Her concern for women in Chile has also been the focus of feature articles in The New York Times, The Christian Science Monitor, Ms. Magazine, and the Barnard Occasional Papers on Women's Issues.
Dr. Agosin has had articles published in prestigious journals and newspapers such as Latin American Review, Revista de Estudios Hispanicos, Christian Science Monitor, the Boston Globe, and the New York Times.
Among her many works are the following: Circles of Madness: Mothers of the Plaza de Mayo (1992), Hogueras/Bonfires (1990), A Gabriela Mistral Reader (1993), Dear Anne Frank (1994), La Literatura y los Derechos Humanos: aproximaciones, lecturas y encuentros (1989), Brujas y Algo Mas/Witches and Other Things (1984), Toward the Splendid City (1994), A Woman's Gaze, Latin American Woman Artists (1998), and Women in Disguise (1996).
One of her recent books is a A Cross and a Star (University of New Mexico Press, 1995), a memoir of her mother's childhood as a Jewish immigrant in a German community in Chile before, during and after World War II. Another maunscript, Noche Estrellada, about the life of Vincent Van Gogh, was published by the North-South Center in 1996.
Dr. Agosin has received numerous grants and awards from, among others, the National Endowment for the Arts, National Endowment for the Humanities, the Letras de Oro Prize for Poetry, The Good Neighbor Award from the National Association of Christians and Jews. She won the Mexican Cultural Institute Prize for editing an anthology of Mexican women writers, and the Peabody Award for Best Documentary based on her book, Scraps of Life: Chilean Arpilleras. In 1998, Dr. Agosin received the United Nations Leadership Award in Human Rights.
The first of her seven books of poetry to appear with English translations, Brujas y algo más: Witches and Other Things (1984), is available from Latin American Literary Review Press in Pittsburgh.
She has also published poems in Nosotras: Latina Literature Today, (Bilingual Press, N.Y., 1986). Marjorie Agosín is the author of a work of criticism on the Chilean author, Maria Luisa Bombal (Senda Nueva de Adiciones, 1983), and articles concerning Latin American women writers appearing in such publications as Cuadernos Americanos, Arbor: Ciencia, Pensamiento y Cultura, and Latin American Theatre Review.
Margorie Agosín is an Associate Professor of Spanish at Wellesley College where she teaches courses in Spanish Language and Latin American literature. She has been a member of the faculty since 1982.
Professor Agosín earned a B.A. degree at the University of Georgia (1976), and an M.A. at Indiana Univeristy (1977). She completed her Ph.D. at Indiana University in 1982. Recently, she received the Letras de Oro 1995 prize for poetry. Presented by Spain's Ministry of Culture and the North-South Center of the University of Miami to a writer of Hispanic heritage living in the United States, the Letras de Oro recognizes both the creativity of the recipients and the importance of Spanish language in the United States today.
---
Thank you to the Public Affairs office at Wellesley College which aided in the above bio.
To view Dr. Marjorie Agosín's homepage at Wellesley College, click here.
To return to the Conference main page, click here.